Two weeks ago our team flew down to Chicago to attend NeoCon, an annual commercial design trade show held at the Merchandise Mart. The three day event, focused on being at the forefront of design and business trends, featured countless exhibits, speakers, product launches, innovative solutions and workplace experts.
Louise Schmidt, our project designer, shares product and showroom highlights: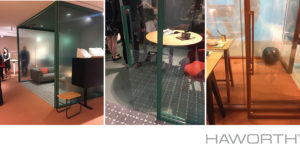 One of the highlights was the Haworth showroom, which had a lovely colour palette. They featured demountable partitions that came in several colours as a standard, instead of the typical steel finishes. The sit-stand boardroom table was also a cool product that would be very useful for long meetings and reviews.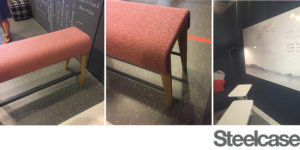 Another product I loved was the saddle bench and the whiteboard in the Steelcase showroom. The bench is the perfect height for perching, like sitting on a fence but with extra padding. It would work wonderfully in breakout spaces and casual meeting areas.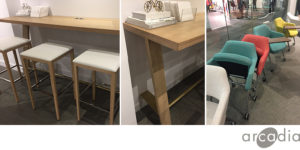 The bar table with brass details from Arcadia was beautiful. It would work great for a phone booth, breakout area or any casual space. Arcadia also had bright training room chairs that nested together and were very comfortable.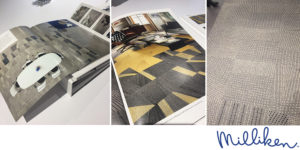 I love the new Milliken carpet collection. There are different variations and colours which would be great for creating accent areas. The dot and the linear patterns are so fun.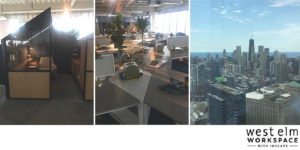 I was in heaven in the West Elm Workspace showroom. It was off site, in a building across the river from the Mart on the 47th floor, showcasing a spectacular view of downtown Chicago. They had little work "houses" – cubicles or phone booths with a roof on top. When grouped together, they called it a "village". They would work so well for a very particular client. They are so cute, and I would love to have one as my workspace. They also featured a cheap and cheerful desking system made from parallelogram shaped tables. It is very adaptable and can be arranged in several different groupings.
See you next year, NeoCon!